Description
Details
HackRF One from Great Scott Gadgets is a Software Defined Radio peripheral capable of transmission or reception of radio signals from 1MHz to 6 GHz. Designed to enable test and development of modern and next generation radio technologies, HackRF One is an open source hardware platform that can be used as a USB peripheral or programmed for stand-alone operation.
1 MHz to 6 GHz operating frequency
half-duplex transceiver
up to 20 million samples per second
8-bit quadrature samples (8-bit I and 8-bit Q)
compatible with GNU Radio, SDR#, and more
software-configurable RX and TX gain and baseband filter
software-controlled antenna port power (50 mA at 3.3 V)
SMA female antenna connector
SMA female clock input and output for synchronization
convenient buttons for programming
internal pin headers for expansion
Hi-Speed USB 2.0
USB-powered
open source hardware
Your HackRF One order will include an injection molded plastic enclosure and a micro USB cable. An antenna is not included, but consider ANT500 for general-purpose reception!
Additional Info
Additional Info
| | |
| --- | --- |
| SKU | 100599 |
| UPC | No |
| USB Interface IC | No |
| Tuner IC | No |
| Frequency Range (approximate) | 1MHz - 6000MHz |
| TCXO clock | No |
| Antenna Connector Type | Female SMA |
| Antenna Included? | No |
| Remote Included? | No |
| Additional Accessories | Plastic enclosure (assembled), USB cable, retail box. |
Reviews
HackRF One

Review by

Anthony

| | |
| --- | --- |
| Performance | |
| Value | |
| Quality | |

Received my HackRF One yesterday, It performs Very well.
No pager noise on 2m 144mhz ham band (with LNA/RF adjustments)...thats VGood.
Quite respectable Sensitivity and Selectivity for the price.
Working well with SDR Console V2 though had problems with audio stuttering
which is fixed by going to ....Options/Audio/Audio Latency ...use standard drivers.....
Manually adjust the following settings to....LOW 8ms / TARGET 50ms / HIGH 200ms. (All fixed for now)

A good step up from the RTL performance wise,Of course still experimenting.

thanks NOOELEC from Anthony (Posted on 9/10/2014)
Downloads
Product Downloads
URL
HackRF Kickstarter updates page. For general project updates and timeline estimate.
Great Scott Gadget's HackRF page. For general updates.
Repository
You may also be interested in the following product(s)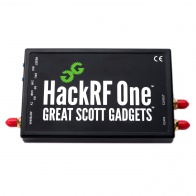 From: US$350.50
To: US$754.41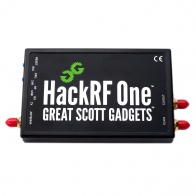 From: US$381.60
To: US$676.25