Description
Details
IMPORTANT:
HackRF shown for installation demonstrational purposes only. HackRF is sold separately.
This kit requires basic soldering skills. Though these components are 'easy' to solder we don't recommend learning on your brand new HackRF!
The plastic enclosure included with HackRF slightly impedes the RF shield footprint area. This can be rectified either by purchasing our custom HackRF aluminum enclosure, or through minor modification of the plastic case, which can be done with a sharp hobby knife and a few minutes of time.
This kit contains the unpopulated RF shield for HackRF to help reduce stray EMI. The shield frame needs to be soldered to the board, and the shield cover mounts atop the frame.
Also included is the GND clip testpoint, J10, and a 20 position female header for P30 (BANK2_AUX).
Additional Info
Reviews
Good shield

Review by

David

| | |
| --- | --- |
| Value | |
| Quality | |
| Performance | |

Soldering the can in place is not as easy as it could be, but once in place it works well.

Tips:
Tack solder one corner of the shield, then the opposite corner, making sure that the shield is centered over the gold spots on the PCB. Once you are satisfied, solder the remaining points. Some will have to be soldered from inside the can, due to close in components like headers.

To make the shield more effective, I put two thicknesses of Flexible Ferrite Absorbing Material (FFAM) inside the shield can. I had to remove the metal "spider" to do this since the shield can cannot be entirely soldered from the outside. (Posted on 2/5/2019)

Great Kit for HackRF!

Review by

Alex

| | |
| --- | --- |
| Performance | |
| Value | |
| Quality | |

Hi, I'm a radio amateur from the southwest of Germany and have quite a bit of soldering experience and a fully equipped test laboratory.
I've ordered the RF shield kit and the anttenna for my hackRF board. If you touch the HackRF plastic casing with your hand you can see and hear that you need a RF shield. The components came well packaged and they fit the board exactly. Where to put them is self-explanatory and I've soldered them using a Weller WHS 40D and a fine tip with 350°C and 0,8mm solder.
Now everything works as it should and I have no RF influence from outside anymore.
The antenna works well, no problem there.
A word of caution:
1. Use a very fine tip when soldering and fine solder.
2. Be careful when opening the HackRF plastic case and when pushing in a screwdriver. You can easily destroy some electronic components on the board!
Vy 73,
Alex DH2ID
(Posted on 10/10/2014)
Downloads
You may also be interested in the following product(s)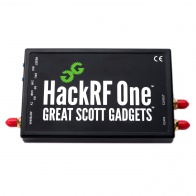 From: US$350.50
To: US$754.41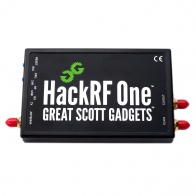 From: US$381.60
To: US$676.25