Description
Details
The first premium RTL-SDR antenna bundle! Perfect for all SMA-input SDRs like our NESDR SMArt series and HackRF One software defined radios.
The heavy-duty antenna base contains an ultra powerful neodymium magnet, which adheres powerfully to any ferrous surface. The powerful magnet enables allows for heavy antenna masts to be attached without deflection of the antenna base or mast from its ideal position.
The antenna cable leading from the antenna base is 2m of high-quality RG-58 with a male SMA connector on the end--it is long enough for most remote SDR applications, has much lower loss than other antenna cables in this price range, and makes connectivity to SMA-input SDRs a snap!
Three high quality antenna masts are included at no additional cost. One is an ultra-long telescopic antenna mast, which can receive a wide range of signal types, depending on set length. Another mast is tuned for DVB-T/DVB-T2/GSM applications (black stubby antenna with blue bands), great for customers both in North America and Europe. Lastly, a rather unique helical (corkscrew) antenna is included. Though light-weight, this antenna can receive a wide range of VHF/UHF signal types with ease.
In summary, this antenna set is capable of receiving most any signal within the frequency capability of RTL-SDRs at a previously unheard-of price point!
Additional Info
Additional Info
| | |
| --- | --- |
| SKU | 100692 |
| UPC | 0616469146038 |
Reviews
Quality, value and performance

Review by

Glenn

| | |
| --- | --- |
| Value | |
| Quality | |
| Performance | |

I have had my RaTLSnake antenna kit for a day now and for a decently priced kit, the performance is good. Just sitting on the top of a shelf I get really good DECODES for a P25 system running in the 850 MHz range.
(Posted on 2/16/2020)

Good for cheap

Review by

Steve

| | |
| --- | --- |
| Performance | |
| Value | |
| Quality | |

I have no means to test the antennas other than poking about frequencies, but I can tell you they do pick things up better than a piece of bent wire. The main reason for the effort of a review, the description of "The heavy-duty antenna base contains an ultra powerful neodymium magnet, which adheres powerfully to any ferrous surface." should be reworded as "The thin-gauge antenna base contains a generic ferrite magnet, just barely capable of holding itself down while extending the included telescopic antenna". (Posted on 1/16/2020)

Great kit, good range of coverage

Review by

Brian

| | |
| --- | --- |
| Quality | |
| Performance | |
| Value | |

Solid frequencies for outstanding value. Would appreciate specifications for each antenna, though. From official NooElec comment on Amazon listing:

"The one with the 3 blue rings is meant primarily for signals around 700MHz-1200MHz.
The other is a helical antenna that is meant primarily for frequencies between 1100MHz-1800MHz.
The telescopic it would depend on the set length of the antenna."

I'm going to assume these are approximate -3dB bandwidths for 360 in-plane coverage. Not sure what the conversion is for telescopic length is, though. It does get great FM. (Posted on 6/12/2018)
Downloads
You may also be interested in the following product(s)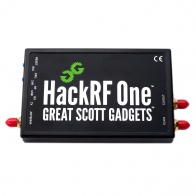 From: US$375.19
To: US$666.28