NESDR SMArt Series
NESDR Smart SDRs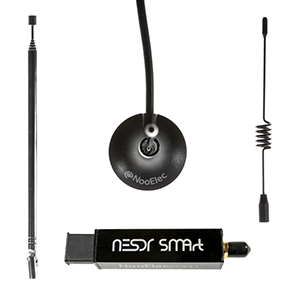 NESDR (pronounced 'any-ess-dee-are') are ultra-low-cost, wide-band software defined radios--truly affordable radio for everyone! All models in this series are RTL-SDRs--based on the Realtek RTL2832U integrated circuit.
All NESDRs SMArts have a warranty period of 2 year or greater
NESDRs are compatible with all RTL-SDR software packages
Plenty of accessories, adapters & cables are available
If you are looking for software, please check the 'Downloads' tab of the SDR product page
Having trouble with installation? Try taking a look at our NESDR Installation Guide for assistance.
Still confused? Have a specific question in mind? Please email us using the contact link and we'll be happy to help!